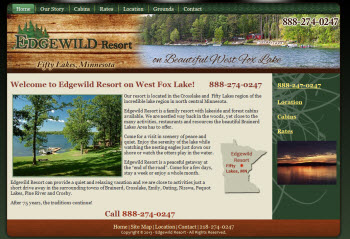 Brainerd – Crosslake MN lakes area is home to many family resorts, renting cabins in an old fashion manner. Edgewild Resort on beautiful West Fox Lake is one such resort.
The  O'Briens acquired the resort in April 2013 and are excited to  operate this resort and continue finishing up on updating all the cabins.
Edgewild was hewn out of the northwoods over 75 years ago and many of the tall pines stand as a testament to the time honored tradition of family resorts that retain the splendor of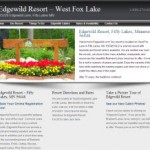 the Minnesota northwoods.
BAMsites was asked to provide an inviting website design, as well as SEO services so that the O'Briens' new venture will be found by their targeted audience. The old design is at lthe left.
Edgewild caters to families seeking relaxation in a traditional "up north" quiet small lake environment. However, are extremely close to all that the Crosslake and Brainerd/Pequot Lakes area has to offer.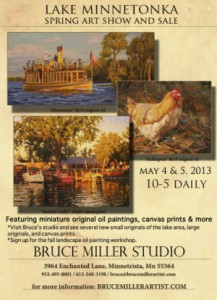 Bruce Miller is an accomplished wildlife and landscape artist living on the southwest region of Lake Minnetonka. On May 4 & 5, in May 2013 he will have an Art Show at his studio on Enchanted Island in Mound/Minnestrista, Minnesota.
Bruce now focuses on oils and paints many scenes featuring various aspects of life on Lake Minnetonka and other large lakes. From sunsets to sailing, including pastoral landscapes and farm animals to classic wildlife art – he represents a very unique perspective.
Bruce's originals have been purchased by selective art buyers and collectors from around North America.
He made his mark in the wildlife genre by winning the 1993 Federal Duck Stamp Competition with a memorable pair of Canvasback ducks. Since then Bruce's art has graced hunting and wildlife stamps including ducks, pheasants, deer, elk, moose, and more.
Stop by his exhibit in early May to see for yourself why Bruce Miller is considered one of the finest artists in Minnesota.
Oh yeah, he happens to be my twin brother!
You can call for more information at 952-495-8001 or 612-240-3198.
The address of Bruce Miller's Art Studio is:
3964 Enchanted Lane
Mound, MN 55364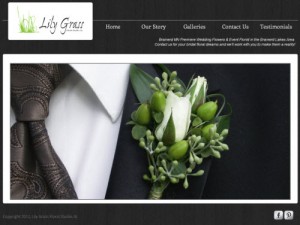 Lilygrass Floral Studio at 320-293-4025, provides the Brainerd Lakes area with strikingly beautiful flower arrangements for weddings and special occasions.
Marci Hoard, the owner teaches floral design and arrangement at Central Lakes Community College in Brainerd, MN.
She called BAMsites Web Marketing with a problem. A relative built a nice looking website, but no one was visiting it, because no one could find it – because there as no search engine strategy developed for the site.
We initiated a SEO campaign on the website optimizing it for the Brainerd Lakes area of northcentral Minnesota and focusing on the destination resorts often used as wedding venues: Grandview, Craguns, Maddens, Breezy Point, Timbermist and others.
Google Analytics will help us track the performance of the SEO work. We also provided a number of other usability tips to help super charge her online marketing strategies.
Since you are reading this blog, you are also witnessing an alternative strategy to kick start identification by the search engines. Search engines love blogs and they crawl mine a lot. Therefore they quickly found this blog and, as you can see, show it prominently on the search results.
Embedding PDF's into your webpage can make linking documents a powerful part of providing information. This video describes how-to do this function converting a Word document to PDF and then uploading it via the "new media" function.
We then place the link text on the page and set the hyperlink as demonstrated below:
As more and more of us yield to the ease and simplicity of e-reading, here's a neat look at how "dirt world" books stack up against the new kid on the block, the eBook.
Understanding Cloud technology will be important to the future of us all. Here is a cool graphic that helps explain what's going on and what my be coming.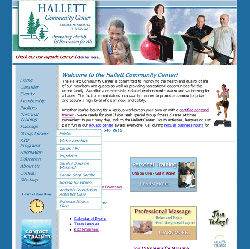 The Hallett Center of Crosby is a community health, wellness, and fitness facility in north central Minnesota. The website has undergone several design changes through the years.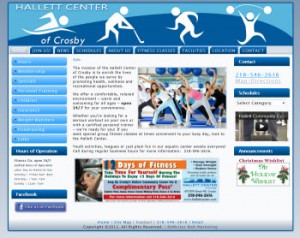 The last design, seen on the left was relatively narrow at 850 pixels and served the purposes of the center well for many years.
We felt it was time for a fresh new look.
The Hallett Center of Crosby has many announcements and schedules that change frequently.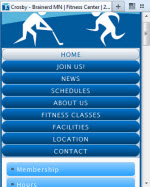 Therefore we wanted a format that focuses on existing facilities and activities, but also provides visibility for frequent announcements and schedule variations.
We played off the Hallett logo and kept to the high trust blue colors and chose a complimentary photo to pull in the various colors.
In addition to the design, the architecture of the site is built to automatically resize and adjust for different viewing environments, such as tablets or smartphones.
Historic Hotel Utica is a grand lodging that has accommodated the likes of Teddy Roosevelt and Judy Garland. It was refurbished in 2003 and restored to it's former grandeur.
BAMsites was called upon to create a concise web design geared toward driving increased bookings into the hotel.
We developed booking widget that is viewable throughout the site allowing folks to begin the reservation process from anywhere.
We also developed a mobile interface for ease of functionality for folks on the go.
Included in the project is organic SEO implemented on all pages of the primary website, as well as local search strategy and implentation.
Together, all these web marketing processes, in addition to their own in-house social media efforts, will draw traffic and result in increased bookings.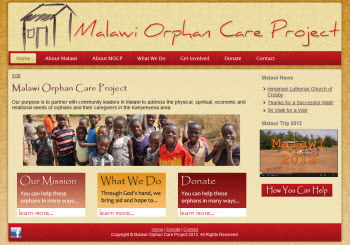 BAMsites was approached to design and construct a charitable website geared at raising money for the orphans of the Kenyenyeva region of Malawi, Africa. This was done au gratis as a favor to aid in this effort to help these people.
Many of the children in this area are orphans due to the unbridled epidemic of HIV/AIDs which takes the life of many of the parents.
This region of Africa is one of the poorest in the world, lacking basic necessities of normal living as well as education and other needs for the people who live there.
Our hope is by building this attractive website, giving individuals will see clear to support this effort of helping these people through donations and other support activities.
Donations may be made by going here: Donate
Use the free Calibre software to easily organize and upload electronic digital items to your e-Reader device. Below is a video tutorial by Brad Miller showing you how, using the example of Five Steps to Winning Sales by Daniel Holte.
x