The community of Crosby-Ironton has a long tradition of excellent amateur sports with heavy support from the public. C-I Sports Boosters is a group of enthusiastic town folk who raise money to support extra-curricular activities. These monies buy equipment and pay for activity related costs that are not typically covered within the school budget.
They also strive to ensure that all students, regardless of financial background, have the opportunity to pursue and compete in their chosen sport or other competitive activity. 
BAMsites built a site to highlight the mission of C-I Sports Boosters and allow caring supporters to donate online and view the related Facebook page, as well.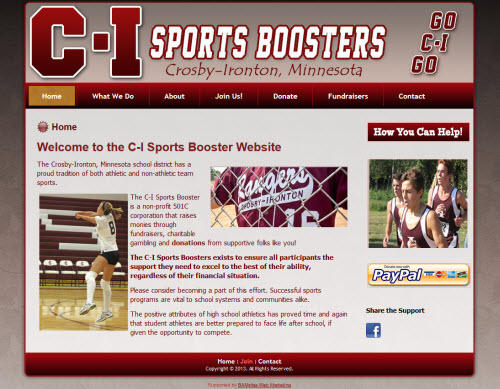 The Astoria Hotels are a chain of moderately priced, but well appointed hotels with a full list of amenities for the business traveler, family, or event planner.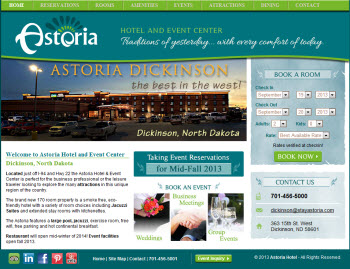 BAMsites was asked to expand on the layout of the the initial site at stayastoria.com.  We took the logo and color scheme and embellished the site to make it more engaging with a very visible booking widget and attractive home page slideshow. 
In addition, we also developed and implemented an SEO solution to aid in drawing free traffic to both the website and the mobile website.
The key to any hotel site is to have an easy to navigate booking widget integrated within the website. 
We also added appropriate social network and rating icons along the footer, such as Trip Advisor and YELP, for quick access to see what others are saying about Astoria Dickinson. 
Selling Firewood Throughout the U.S.!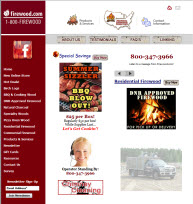 Paul's Fireplace Wood in Little Falls, MN sells more fireplace wood, cooking wood, and decorative wood than anyone else. Firewood.com has been managed by BAMsites for at least six years and our SEO and web design have made them the number one place on the internet for buying various types of firewood. 
This family business sells:
Residential Fireplace Wood – delivered to the Mpls. – St. Paul area of Minnesota
Commercial Restaurant Cooking Wood
and many custom orders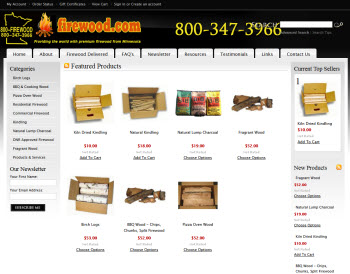 Firewood.com wanted to upscale their online store, so we used one of the e-commerce  store systems to automate and add efficiencies to their operation. 
The result is a sister site (temporarily): MinnesotaFirewood.com.
We will keep the original, seen above left alive for at least six months to take advantage of the current high traffic levels.
Eventually, we will make this new online store the anchor Firewood.com.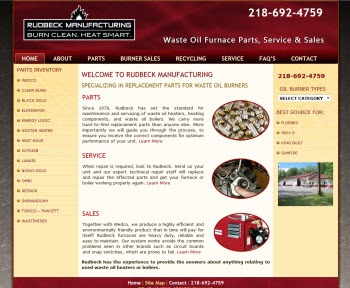 Used oil and other similar fuels can be used as an excellent source of fuel for heating furnaces , boilers, and other machines. Of all the projects we've done at BAMsites, this one was one of the most unique.
It was unique because the core business is selling used oil furnace parts to waste oil heaters manufactured many years ago. Most of these old beasts still work, if replacement parts are available for repair and service. 
Talk about an off beat way to make money!
Rick and Ryan Rudbeck of Crosslake, MN know more about these waste oil heaters and furnaces than anyone in the country. They spend their days on the phone answering questions and sending folks replacement parts as well as new burner systems that are manufactured right here in the north country. 
In addition, they also sell paint thinner recycling bags and other recycling accessories for dealing with hazardous materials.
The Rudbecks needed their old site revitalized and positioned to bring them to the top of the search rankings for waste oil heater parts and associated terms.
Economy Garages of Deerwood, MN offers a full line of lumber built garages in a variety of configurations to fit one's needs.

BAMsites was commissioned to give the old site a new look. In addition, it was paramount that search terms were laced into the fabric of the site to attract potential customers from all over the West and Northern regions of Minnesota.

Economy Garages is located in the geographical epicenter of Minnesota and services customers in the regions represented by:

St. Cloud
Brainerd
Wadena
Staples
Park Rapids

Bemidji
Aitkin
Hutchinson
Willmar
Fergus Falls
| | |
| --- | --- |
| Economy Garages offers multiple crews of seasoned and professional craftsman who get the job done quickly and expertly. They also provide other services to save headaches relating to:  | |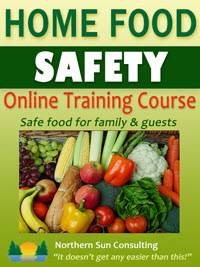 How can you ensure you serve safe food? Each year an estimated 76 million Americans get sick from eating contaminated or improperly prepared food.
Northern Sun Consulting, food safety experts and consultants, is now offering a simple step by step guide to ensuring the food you prepare at home is safe for your family and guests.
Robert Carper, principal of Northern Sun says, "It's about time somebody brought a comprehensive food safety program for the general public, that is easy to use and measurable over time."
This course covers the primary issues that may compromise home food preparation and how to avoid problems with proper food handling and preparation.
The techniques covered are the very same as those used in restaurants for food handlers. These are the best USDA approved practices for handling food.
In this course you will learn: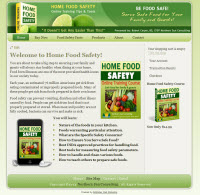 Nature of the foods in your kitchen.
    Foods warranting particular attention.
    What are the Specific Safety Concerns?
    How to Ensure You Serve Safe Food?
    Best USDA approved practices for handling food.
    Best tools for measuring food safety parameters.
    How to handle and clean various foods.
    How to teach others to prepare safe foods.
If you are the one responsible for home food safety, or if you desire to teach others the critical guidelines and techniques for preparing safe foods, this course is for you!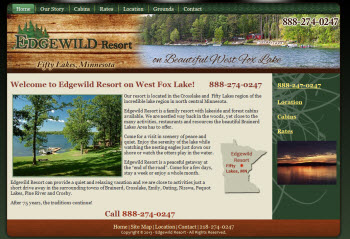 Brainerd – Crosslake MN lakes area is home to many family resorts, renting cabins in an old fashion manner. Edgewild Resort on beautiful West Fox Lake is one such resort.
The  O'Briens acquired the resort in April 2013 and are excited to  operate this resort and continue finishing up on updating all the cabins.
Edgewild was hewn out of the northwoods over 75 years ago and many of the tall pines stand as a testament to the time honored tradition of family resorts that retain the splendor of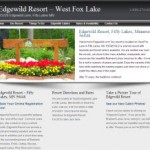 the Minnesota northwoods.
BAMsites was asked to provide an inviting website design, as well as SEO services so that the O'Briens' new venture will be found by their targeted audience. The old design is at lthe left.
Edgewild caters to families seeking relaxation in a traditional "up north" quiet small lake environment. However, are extremely close to all that the Crosslake and Brainerd/Pequot Lakes area has to offer.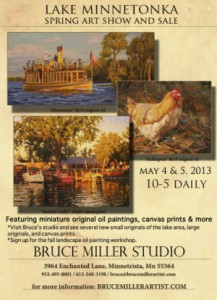 Bruce Miller is an accomplished wildlife and landscape artist living on the southwest region of Lake Minnetonka. On May 4 & 5, in May 2013 he will have an Art Show at his studio on Enchanted Island in Mound/Minnestrista, Minnesota.
Bruce now focuses on oils and paints many scenes featuring various aspects of life on Lake Minnetonka and other large lakes. From sunsets to sailing, including pastoral landscapes and farm animals to classic wildlife art – he represents a very unique perspective.
Bruce's originals have been purchased by selective art buyers and collectors from around North America.
He made his mark in the wildlife genre by winning the 1993 Federal Duck Stamp Competition with a memorable pair of Canvasback ducks. Since then Bruce's art has graced hunting and wildlife stamps including ducks, pheasants, deer, elk, moose, and more.
Stop by his exhibit in early May to see for yourself why Bruce Miller is considered one of the finest artists in Minnesota.
Oh yeah, he happens to be my twin brother!
You can call for more information at 952-495-8001 or 612-240-3198.
The address of Bruce Miller's Art Studio is:
3964 Enchanted Lane
Mound, MN 55364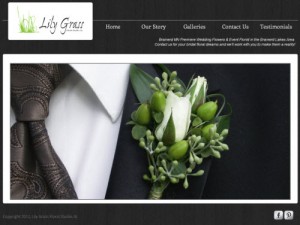 Lilygrass Floral Studio at 320-293-4025, provides the Brainerd Lakes area with strikingly beautiful flower arrangements for weddings and special occasions.
Marci Hoard, the owner teaches floral design and arrangement at Central Lakes Community College in Brainerd, MN.
She called BAMsites Web Marketing with a problem. A relative built a nice looking website, but no one was visiting it, because no one could find it – because there as no search engine strategy developed for the site.
We initiated a SEO campaign on the website optimizing it for the Brainerd Lakes area of northcentral Minnesota and focusing on the destination resorts often used as wedding venues: Grandview, Craguns, Maddens, Breezy Point, Timbermist and others.
Google Analytics will help us track the performance of the SEO work. We also provided a number of other usability tips to help super charge her online marketing strategies.
Since you are reading this blog, you are also witnessing an alternative strategy to kick start identification by the search engines. Search engines love blogs and they crawl mine a lot. Therefore they quickly found this blog and, as you can see, show it prominently on the search results.
Embedding PDF's into your webpage can make linking documents a powerful part of providing information. This video describes how-to do this function converting a Word document to PDF and then uploading it via the "new media" function.
We then place the link text on the page and set the hyperlink as demonstrated below: