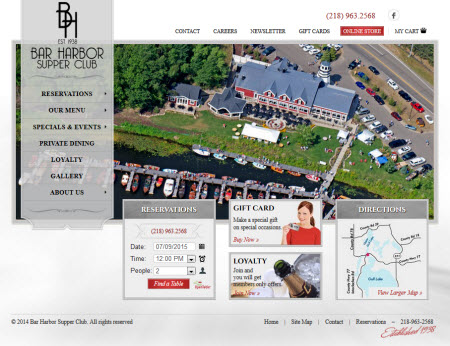 Bar Harbor Supper Club is a famous lakeside bar and restaurant located on the north end of Gull Lake. It's colorful past is displayed on some of the many photos and memorabilia from the 40's and beyond.
A fire destroyed the restaurant many years ago and it has gone through several changes of ownership and remodeling.
The restaurant is now one of the classiest places in the entire Brainerd Lakes area to dine and relax.
The ownership wanted a website change to reflect the current motif and the wide selection of menu choices.
We added a reservation widget to the home page to allow for quick and easy reservations.
We also wanted to add and online store initially allowing folks to purchase gift certificates and eventually other items as well.
So far so good as coupon sales were through the roof over the holidays!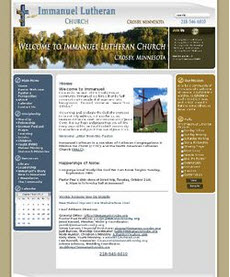 New Website for Crosby, MN Lutheran Church
In 2004, BAMsites, a Brainerd MN area web services company, was asked to build a website for this local church. We employed a Joomla platform at the time and the site served us well for many years.
Last summer the website team gathered to pursue a redesign. The site needed to look impressive, be welcoming to new members, easy to navigate, and mobile friendly.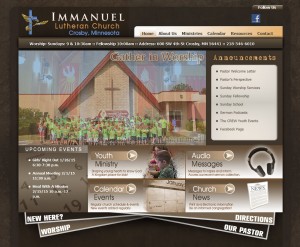 There are a number of church templates available out there so I did a search to cut to the chase on some design ideas.
Since I placed the church's new site on WordPress, we went with a cool design and modified it to fit our needs.
This design had four different color  possibilities and we chose the brown.
The site was launched in January of 2015 and has been very well received by the congregation. The highlight of the site is the slick interface for listening to Sunday sermons.
Captain Lew Morgan –  SW Florida Fishing Guide
Everyone wants to catch big fish. I'm no different. And when we're talking really big fish, we're talking saltwater fishing. Captain Lew Morgan is a fishing guide near the famed Boca Grande tarpon coverts and a thousands of other saltwater fishing spots, both inshore and offshore.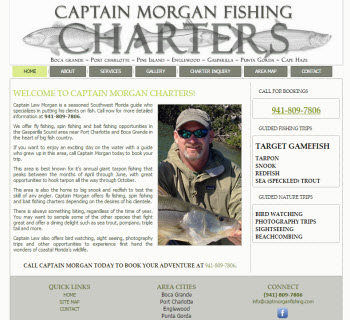 Southwest Florida is known for tarpon, redfish, snook, speckled trout and a host of other great fighting fish inshore. Captain Lew is an expert on putting anglers of all ages into fishing memories that will last a lifetime.
Like many folks in this line of work, traditional marketing is the farthest thing from their mind. Many are good ole boys looking to turn a passion into a career. It's not as easy as it may look – to be a successful fishing guide.
After spending some time with Lew, he said he wasn't pleased with the current website regime and was looking for something else. I jumped at the chance to help him succeed.
BAMsites designed the logo/header and the entire website. The site is responsive allowing for solid displays on any digital equipment.
Captain Lew had the best year of guiding business ever over the last season that this website has been working for him.
Glad to help, Lew! And I look forward to discussing your website in more depth while casting for 120 pound silver kings in Boca Grande, Florida.
Rick Kreutzfeldt Law Office deals largely in estate planning, social security disability claims, real estate law, and business law.
We did a much needed makeover for this site that was originally created in 2005.
BAMsites redesigned the site and added some contemporary movement, as well as replicating the original SEO strategy what resulted in top search results for the areas that Mr. Kreutzfeldt specializes:
Estate Planning
Social Security Disability
Business Law
Real Estate Law
Here is the new design that is also reflected within a free standing mobile site, which may be viewed at: m.attorneyrick.com.
Charitable Aid in the Dominican Republic
BAMsites was contacted by a 501.3C charitable organization to update their existing site. We provided a number of services for the organization, including a new theme, online payment system (Paypal) and even a new domain name that better described the breadth of their service efforts in the Dominican Republic.
Originally their primary focus was eye care, including eye exams and eye glasses provided through the charitable efforts of the Lion's Clubs in the U.S.
Their services have now expanded to meet other needs in medical supplies, transportation, and food distibution. These services are all done by a dedicated volunteer group that works locally to improve the lives of the very poor living in the Sosua region of northern D.R., not far from Haiti.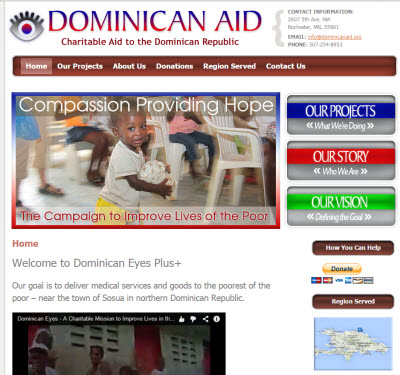 Dominican Eyes Plus+ is the name of the charitable organization and we altered it slightly to reflect enhanced services now available through this mission.
BAMsites is proud to work with passionate individuals who believe so strongly in their mission that they continue to find ways to help these poor people.
Hats off to DominicanAid.org! We are glad to support your efforts and believe this new website will go a long way toward drawing charitable donations to this organization where 100% of the dollars raised go directly to the services they provide.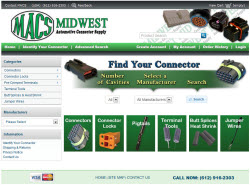 Midwest Connector Supply offers hard-to-find electrical automotive and related vehicular electrical connectors and related elements for sale online.
The parent company Thexton Manufacturing, supplies the automotive industry with mechanic tools, diagnostic testers, and other repair solutions.
We used an alternative eCommerce solution for this store. It was build from the ground up using an open source e-store.
The result is one of the most intuitive, easy-to-navigate store sites I've seen thus far. The pre-built sites cannot hold a candle to this one. I know because I've built several sites using one of the "big box" ecommerce stores.
The Iron Range Veterinary Clinic is owned and operated by Julia Fry, DVM and Matt Stahl, DVM. They offer a complete range of vet services focusing on dogs, cats, and horses.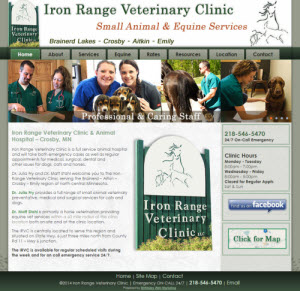 Their previous website was from a veterinary website service and gave little personality to their business. Everything was "boilerplate", meant to apply to any vet clinic and was generating little, if any, business.
They asked BAMsites to assess the situation and offer an alternative that would not only look good, but most importantly put them atop the search engines for the local region they service.
Since their collective goal is to be a top vet provider in the Brainerd Lakes area, the relied upon our experience in SEO to give them the boost they desired.
We garnered photography from one of the staff and added their logo to the header. They have a very visible sign at their vet hospital location on Hwy 6 north of Cty Rd 11 in Crosby.
The slideshow is designed to highlight the caring attitude of the doctors and staff as well as the clean modern facilities they offer in a very centralized location to serve Crosby, Aitkin, Crosslake, Emily and Brainerd.
The site has already reached at or near the top of page one Google for most of the related terms
Overlooked Tips to Make Your Blogs More Effective
Here is an excerpt from an email I sent to a client who likes to blog. I am trying to get him to utilize a few extra tips that can pull more traffic to the mother site and consequently phone calls and more business. Here's what I wrote:
Each blog post should be its own cyber "sputnik", going out into cyberspace and pulling traffic to the website. Here are some tips to get more gravity from your blog posts.
Inter-Content Links:
Remember you want folks to click on links somewhere to follow it to your website. Therefore in a recent blog: "Family Mediation…"You could place a link on the term "family law" in the second sentence that would link directly with your family law mediation page on the website, here's the link: http://edshawlaw.com/other-legal-services/mediation/.
You should always have at least one link within the content that folks can click.
Break up large tracks of text:
People don't like to read content that is difficult to read. In the example above, I would change the format from this:



In almost all divorce and custody cases the court will require mediation.  A mediator who does not work for either side tries to persuade both sides to reach an agreement.  It seems easy, but getting a fair agreement that works for you is not easy.  Mediation works best when the attorney and client work together on a negotiating strategy to get the client what they need.  A good strategy usually involves not disclosing your bottom line right away as the other side will probably try to get you to go to less than what your bottom line is.  When the stakes are high in mediation you need a good negotiator on your side.

To this:


In almost all divorce and custody cases the court will require mediation.

A mediator who does not work for either side tries to persuade both sides to reach an agreement.

It seems easy, but getting a fair agreement that works for you is not easy.

Mediation works best when the attorney and client work together on a negotiating strategy to get the client what they need.

A good strategy usually involves not disclosing your bottom line right away as the other side will probably try to get you to go to less than your bottom line.

When the stakes are high in mediation you need a good negotiator on your side.

ALWAYS put in a Meta SEO Title for the blog posts, otherwise the SEO title will pull from the blog title above, with no reference to Brainerd or other geographical tags. In the example above, I would consider making the SEO Title something like this (you can use dashes or "Shift+Backslash" for the | separator to segregate keywords:
SEO Title
Brainerd, MN Family Law Mediation | Negotiators | 218-825-7030 | Ed Shaw Law
Meta Description
Brainerd, Bemidji, Wadena, Little Falls,

Minnesota

and surrounding areas – family law attorney and mediator. Call

218-825-7030

today for help with your case and mediation. – rather than what you have below, which was auto-populated by the plugin. There is no geo-tag in the SEO title which is imperative to aid the Google bots in ID'ing where you guys are practicing.Here's what the current SEO region looks like for that recent blog post using a WordPress SEO Plugin.
Also, notice my use of bullet points and bolded text in this blog to help the scanners pick out areas of interest.
As much as you blog, these tips can help you get a lot more traffic to your website.
Best Regards,
Brad Miller
218-831-2284
Service First Cleaning & Restoration – Williston, N.D.
These folks have been serving the greater western North Dakota and eastern Montana region since 1995. Service First uses the latest technologies and equipment to ensure both residential and commercial companies get the service and results they desire.
Whether it's disaster resolution or regularly scheduled carpet cleaning, Service First leads the way with a fine seasoned staff of professionals who take great pride in their work.
BAMsites was asked to create this, their first website, after creating a number of similar sites in this industry, including:
and others.
The site is designed to quickly acquaint the visitor with offered services with a very prominent telephone number always present when they're ready to make the call.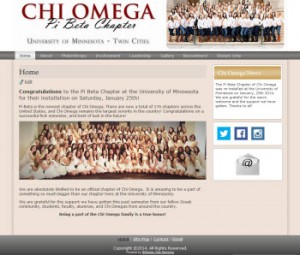 BAMsites Welcomes Chi Omega Fraternity
Chi Omega is a national fraternity of women that was recently installed for the University of Minnesota – Minneapolis Campus.
Whether it is football, hockey, wrestling, volleyball, or any other sporting event on campus, you can count on a group of Chi Omegas showing up together fully clothed in Gopher gear!
We are proud students of the University of Minnesota and one of our favorite things to do is cheer on our teams! Ski-U-Mah!!
The fraternity is characterized by the following ideals of: 
Friendship
High Standards of Personnel
Sincere Learning
Creditable Scholarship
Participation in Campus Activities
Career Development
Community Service
BAMsites was asked to develop a simple website highlighting the various attributes of the fraternity and embellishing the site with lots of photos and slideshows.