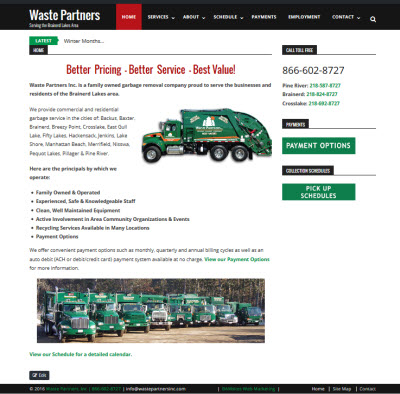 BAMsites Web Marketing welcomes Waste Partners to our family of website customers. Waste Partners is the premier trash – garbage collection business serving the Brainerd Lakes area and the communities of:Backus, Baxter, Brainerd, Breezy Point, Crosslake, East Gull Lake, Fifty Lakes, Hackensack, Jenkins, Lake Shore, Manhattan Beach, Merrifield, Nisswa, Pequot Lakes, Pillager & Pine River.
The original site (below) served them well for years, but updates were sorely needed. A key function is the ability for customers to pay online. This was a relatively simple matter of using the same links they had in place previously.
We added in-depth SEO to the entire site as well as some new functions such as News with a truncated ticker on top of the home page.
The new site features some really nice cut outs of their fancy fleet of trucks, as well as containers. This required Photoshop to cut out and drop shadow the images, eliminating unwanted clutter and making the trucks look super.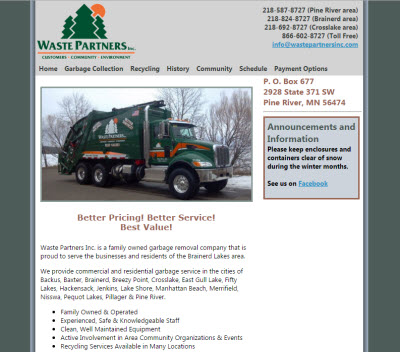 Eric Loge is the owner of Waste Partners, a company that's deeply involved in the communities in which they serve.
Their "give back" philosophy has been rewarded with a growing list of satisfied customers who appreciate a clean and reliable pick up service.
The new site looks just as good on a smart phone as it does on a computer or tablet.
Ted's Signs is one of the oldest and most trusted sign making companies in the Brainerd Lakes area.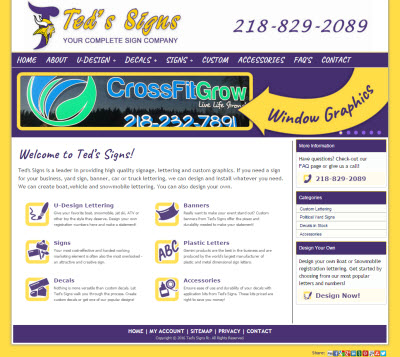 Owner Brandi Breitbach contacted us to take their website to the next level. She wanted to offer online "Do-It-Yourself" sign making, as well as connect an eCommerce engine to the website.
Since the "Do-It-Yourself" application was very custom, we had to go with a platform allowing for such programming.
We chose OSCommerce and programmer Todd Holforty with ProhostOne. I have used Todd extensively in the past. He's one of the best, most creative "programmer web guys" I've come across in my 12 years in the business.
Ted's Signs provides a whole range of sign making services, including:
This project seemed to take on a life of it's own as more functionality was suggested and much was implemented.
We finally got it done after several months and have a site in a place where the owner can take over much of the management.
Brandi has now been schooled in adding new products, fulfilling orders, etc.
BAMsites will continue to provide technical oversight and troubleshooting when problems arise.
Aluminum Portable Skid Fish Houses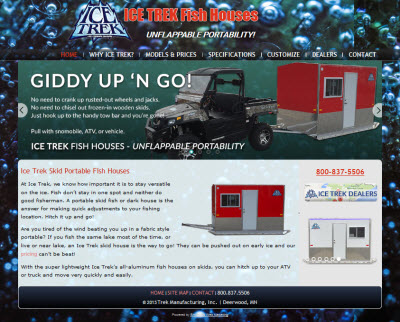 BAMsites was asked to help a fledgling aluminum Ice Fishing House manufacturer. They wanted to kick-start their new line of skid ice fishing houses located in north central Minnesota.
Ice Trek Fish Houses is a new company, building these super lightweight all-aluminum fish houses as the whole market of mobile RV-type fish houses explodes in the Midwest.
Since we're all about ice, the background image is actual pond ice photographed not far from home a couple weeks ago.
There are currently only a handful of competitors in this specific market – at this time. We are positioning the products based on the value of a skid house vs wheel house, as well as simple shell and insulated construction vs. a finished interior.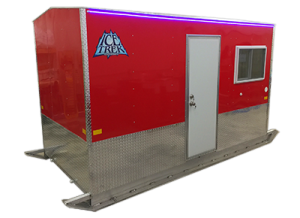 The Ice Trek advantage is the interior spray foam polyurethane insulation only with no additional finishing. This "bar-bones approach keeps costs down and allows a new owner to finish the shanty themselves or use "as is". Further, the aluminum "bear cage" construction is overbuilt and more substantial than the competition.
The site is fully SEO'd for "portable aluminum skid fish houses" and is already popping up on Google and drawing traffic under the aforementioned phrase, as well as: portable skid fish house" and similar.
There are eight different model sizes and configurations available as well as custom designs when desired. A custom form was developed to make it easy for folks to describe what they want as a departure from a standard design.
Windows 10 better than Windows 7.
Here is  a post from a trusted programmer friend of mine: Scott Jibben (Runspot) for those of you that are gun-shy after the Windows 8 debacle. For those of us that had to uninstall the disaster that was Windows 8 and replace with the trusty 7, you may have major reservations on jumping into Windows 10.
There are a few  things you should know.
1. Windows Media Center is no longer supported or allowed on Windows 10.  This software is used to record/play TV (with a TV tuner card) and most people do not use it (I do…).  Most people will use Windows Media Player (which IS still included with Windows 10) to play their music and video files.
2. Microsoft has been giving Windows 10 for free for OEM licenses and it is a pretty good upgrade.
3. Microsoft has been pushing their "Store" with Windows 8 and even more with Windows 10.  It is nice to log into your Microsoft account and download/install software that you purchase from the "Store".  Basically they are trying to promote their "Store" so that it works like the Apple system.  For me, I think that it is more of a blessing than a curse.
4. Windows Updates are NOT optional with Windows 10.  They get installed automatically by Windows 10 and it can't be turned off.  For you and me, this is a GOOD thing.  It should prevent viruses and other problems.
Overall, I would describe Windows 10 as the best of Windows 7 + the best of Windows 8.1.  Yes, Windows 8.x was a disaster, but there were some things that I do like about it.
Windows 10 upgrades come out more frequently.  Microsoft just released a new version 1511 which in old Windows would have labeled a "Service Pack" or Windows 10.1
I really like Windows 10 on my laptop because of the new stream lined interface.  Here is an example:
Windows 8.1 window snippet:


Here's the same DOS window in Windows 10:


It isn't that big of a difference, but it does save space on my laptop.
Windows 10 has virtual desktops.  That is, you can create several "desktops" and run different software in each desktop.  With Windows 7 you could switch between windows.  Windows 10 extends that so you can group related tasks/windows together on a desktop and switch between desktops.  If I didn't have three monitors on my computer, I'd use this feature a lot.
Currently my main development box is Windows 8.1.  I plan to switch to Windows 10 when I get some more computer parts.  I want to get a spare hard drive and clone my computer before I upgrade.  If the upgrade doesn't work out well, I can swap the original boot drive back and be back to Windows 8.1.  I hope that the upgrade isn't a problem because I don't want to run a fresh Windows 10 install.  It usually takes me about 2 to 3 days to get all my software back on a fresh install.  Fresh installs usually run better though…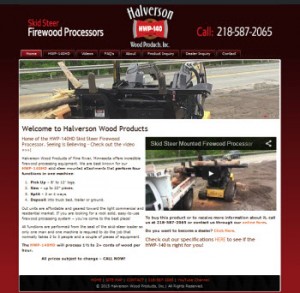 Skid Steer Firewood Processor Attachment
Halverson Wood Products makes an innovative skid steer mounted – firewood processing attachment that:
picks up logs,
cuts them,
splits them,
and can deposit split firewood into a truck bed or trailer!
They came to BAMsites to get search engine marketing and a new look and feel to their relatively new business venture.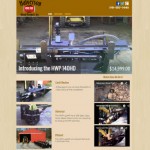 You can see the old site wasn't too bad, but not what you'd want in today's market. Furthermore, there was no SEO implemented into the existing site so they were not being found.
In short, their website was doing little or nothing for them.
BAMsites not only redesigned the website, but we featured the most powerful tool this product can use: a video that really tells the story – very quickly.
We then set to work on the SEO portion of the project. We've embedded keywords and phrases throughout the site to bring traffic where it did not exist before. Our strategy is, as usual, to bring organic visitors via the popular search engines.
Social: We set up a YouTube Channel for the company where current and future videos can draw folks in to see these amazing machines. We had to re-SEO the videos as well to ensure they are found when folks are looking for help splitting a lot of firewood.
We really look forward to helping this fledgling company grow and see the owners realize their dreams of creating something that people will see, like and buy!
We build this original site back in 2004. It was high time for a new look and feel.
This particular site is using the OSCommerce e-commerce engine and comes with all the bells and whistles.
The old site served us well for many years, but as you know, it's always good to stay up with the times and update designs to reflect a more modern look.
This one features a slider banner upper right as well as a mobile rendition making Google friendly and mobile friendly at the same time.
Many thanks to the great folks at Thexton for not only being a long time customer, but becoming long time friends as well!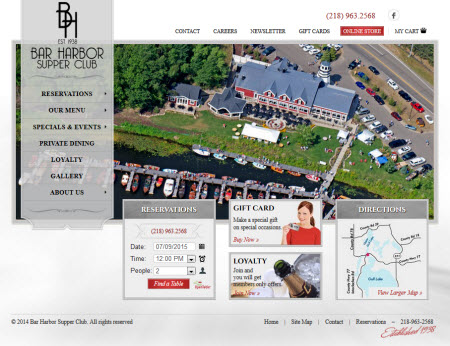 Bar Harbor Supper Club is a famous lakeside bar and restaurant located on the north end of Gull Lake. It's colorful past is displayed on some of the many photos and memorabilia from the 40's and beyond.
A fire destroyed the restaurant many years ago and it has gone through several changes of ownership and remodeling.
The restaurant is now one of the classiest places in the entire Brainerd Lakes area to dine and relax.
The ownership wanted a website change to reflect the current motif and the wide selection of menu choices.
We added a reservation widget to the home page to allow for quick and easy reservations.
We also wanted to add and online store initially allowing folks to purchase gift certificates and eventually other items as well.
So far so good as coupon sales were through the roof over the holidays!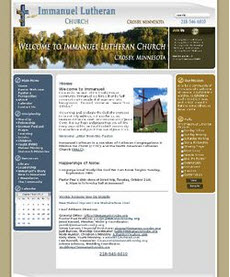 New Website for Crosby, MN Lutheran Church
In 2004, BAMsites, a Brainerd MN area web services company, was asked to build a website for this local church. We employed a Joomla platform at the time and the site served us well for many years.
Last summer the website team gathered to pursue a redesign. The site needed to look impressive, be welcoming to new members, easy to navigate, and mobile friendly.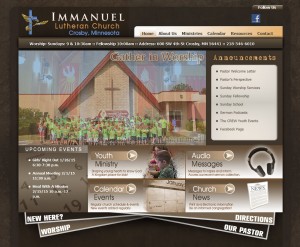 There are a number of church templates available out there so I did a search to cut to the chase on some design ideas.
Since I placed the church's new site on WordPress, we went with a cool design and modified it to fit our needs.
This design had four different color  possibilities and we chose the brown.
The site was launched in January of 2015 and has been very well received by the congregation. The highlight of the site is the slick interface for listening to Sunday sermons.
Captain Lew Morgan –  SW Florida Fishing Guide
Everyone wants to catch big fish. I'm no different. And when we're talking really big fish, we're talking saltwater fishing. Captain Lew Morgan is a fishing guide near the famed Boca Grande tarpon coverts and a thousands of other saltwater fishing spots, both inshore and offshore.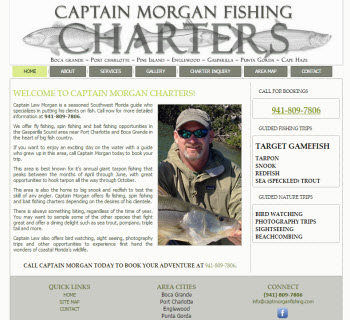 Southwest Florida is known for tarpon, redfish, snook, speckled trout and a host of other great fighting fish inshore. Captain Lew is an expert on putting anglers of all ages into fishing memories that will last a lifetime.
Like many folks in this line of work, traditional marketing is the farthest thing from their mind. Many are good ole boys looking to turn a passion into a career. It's not as easy as it may look – to be a successful fishing guide.
After spending some time with Lew, he said he wasn't pleased with the current website regime and was looking for something else. I jumped at the chance to help him succeed.
BAMsites designed the logo/header and the entire website. The site is responsive allowing for solid displays on any digital equipment.
Captain Lew had the best year of guiding business ever over the last season that this website has been working for him.
Glad to help, Lew! And I look forward to discussing your website in more depth while casting for 120 pound silver kings in Boca Grande, Florida.
Rick Kreutzfeldt Law Office deals largely in estate planning, social security disability claims, real estate law, and business law.
We did a much needed makeover for this site that was originally created in 2005.
BAMsites redesigned the site and added some contemporary movement, as well as replicating the original SEO strategy what resulted in top search results for the areas that Mr. Kreutzfeldt specializes:
Estate Planning
Social Security Disability
Business Law
Real Estate Law
Here is the new design that is also reflected within a free standing mobile site, which may be viewed at: m.attorneyrick.com.