BAMsites Launches Saw Again – Everything for your Chainsaw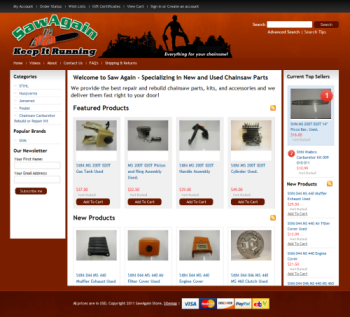 Saw Again is an ecommerce store owned by Dan Dean of Walker, MN. We used an online store service, which brings state of the art e-store functionality and ease of use for the store owner.
BAMsites provided design and development, including Search Engine Optimization (SEO) to allow individual products to be found online for people looking for specific items.
We provided complete ecommerce setup including a payment gateway system that integrates seamlessly with store to provide great functionality.
Dan's strategy is to lure current Ebay customers over to his new store to increase his profit margins.
Good luck Dan! Thanks for using BAMsites to set up your store and begin the journey to make a living online.