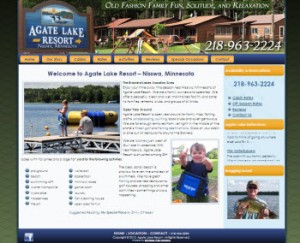 There are a lot of nice resorts in the Brainerd Lakes area and throughout Minnesota.
There is none better than Agate Lake Resort near Gull Lake in Nisswa, MN. Theresa and Bill Garry own and operate this beautifully maintained facility with eleven cabins and tons of amenities. It sits on the shores of crystal clear Agate Lake.
They said they needed a new look.
It was mid-February when we first met. I knew from other hospitality sites I have that this is a critical time of year for any resort. Website traffic for all resorts and lodging begins to accelerate as people begin their search for the perfect vacation destination.
They needed fast action.
I built the site, start to finish in two weeks! That's awfully close to a new record for BAMsites. The owners were super nice and needed a quick turnaround.
The website came out very nice. I used a photo of their road sign to adorn the header with a backdrop of trees and cabins.
Good luck Theresa and Bill. I know this will get the phone ringing for you!