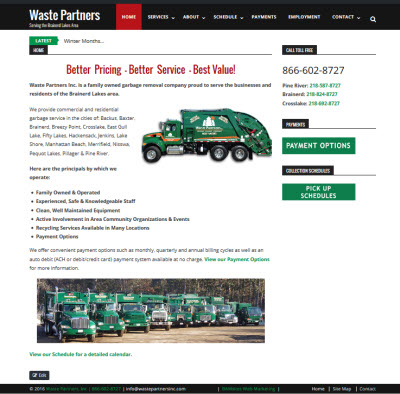 BAMsites Web Marketing welcomes Waste Partners to our family of website customers. Waste Partners is the premier trash – garbage collection business serving the Brainerd Lakes area and the communities of:Backus, Baxter, Brainerd, Breezy Point, Crosslake, East Gull Lake, Fifty Lakes, Hackensack, Jenkins, Lake Shore, Manhattan Beach, Merrifield, Nisswa, Pequot Lakes, Pillager & Pine River.
The original site (below) served them well for years, but updates were sorely needed. A key function is the ability for customers to pay online. This was a relatively simple matter of using the same links they had in place previously.
We added in-depth SEO to the entire site as well as some new functions such as News with a truncated ticker on top of the home page.
The new site features some really nice cut outs of their fancy fleet of trucks, as well as containers. This required Photoshop to cut out and drop shadow the images, eliminating unwanted clutter and making the trucks look super.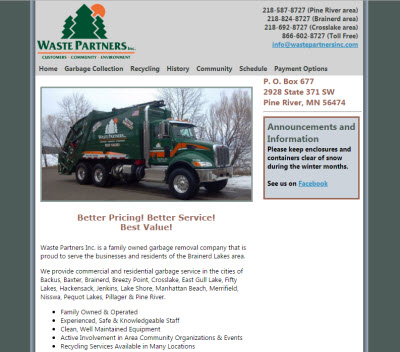 Eric Loge is the owner of Waste Partners, a company that's deeply involved in the communities in which they serve.
Their "give back" philosophy has been rewarded with a growing list of satisfied customers who appreciate a clean and reliable pick up service.
The new site looks just as good on a smart phone as it does on a computer or tablet.