Ted's Signs is one of the oldest and most trusted sign making companies in the Brainerd Lakes area.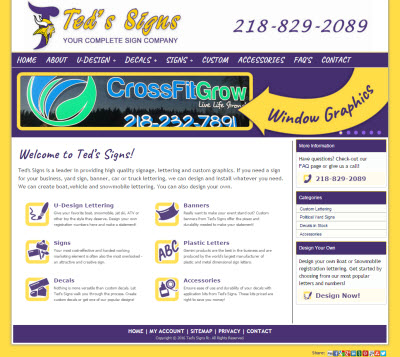 Owner Brandi Breitbach contacted us to take their website to the next level. She wanted to offer online "Do-It-Yourself" sign making, as well as connect an eCommerce engine to the website.
Since the "Do-It-Yourself" application was very custom, we had to go with a platform allowing for such programming.
We chose OSCommerce and programmer Todd Holforty with ProhostOne. I have used Todd extensively in the past. He's one of the best, most creative "programmer web guys" I've come across in my 12 years in the business.
Ted's Signs provides a whole range of sign making services, including:
This project seemed to take on a life of it's own as more functionality was suggested and much was implemented.
We finally got it done after several months and have a site in a place where the owner can take over much of the management.
Brandi has now been schooled in adding new products, fulfilling orders, etc.
BAMsites will continue to provide technical oversight and troubleshooting when problems arise.