Raboin & Francis Law Firm – New Look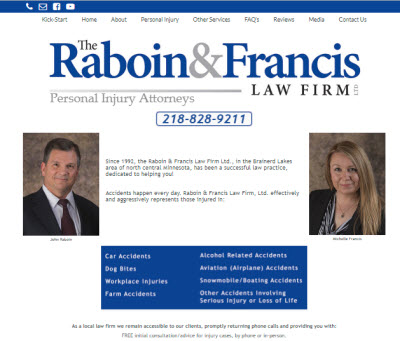 John Raboin and Michelle Francis combined their personal law practices to form Raboin & Francis Law Firm.
This project was geared to make the website theme more contemporary and responsive.
The old site (below left) served them well, but we needed an additional mobile website to get the right feel on a mobile phone.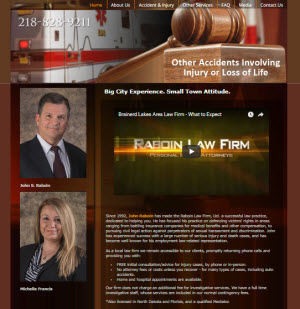 With a responsive design, the site architecture morphs and re-organizes to look good on any device be it phone, tablet, laptop or desktop.
The new design plays off the cool blue and gray colors from their logo.
Raboin & Francis specializes in Personal Injury and Accident Law practice serving the greater Brainerd-Baxter Lakes Region.
Their goal is to help individuals pursue damage awards when facing large insurance companies (whose goal is to reduce or eliminate claims payments).