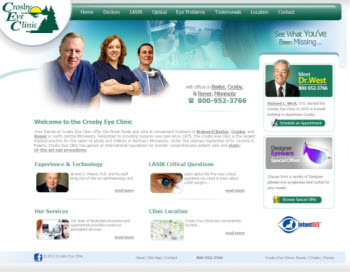 The Crosby Eye Clinic website was redone back in 2005 and the focus was more on SEO, at that time. As the largest vision medical proactive in Northern Minnesota, the Marketing Manager, Patty Hartmann determined it was time for a new look.
We brought in our team of designers and came up with several handsome designs, finally choosing and refining the current design.
The main thrust is to focus on the entirety of the surgical ophthalmological capabilities and the family eye care talents of the three optometrists. The optometrists are featured on the right column and all the doctors have video vignettes where visitors can get to know them.