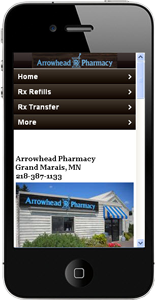 When Mike Schwartzwald, CEO of Guidepoint Pharmacies, asked about some cutting edge techn0logy to help one of his pharmacies, I suggested a mobile website.
The key to pharmacy revenue is prescriptions, especially refills.
We have an attractive and convenient method for doing online prescriptions on the "mother" site: Arrowheadpharmacy.com.
This site automatically redirects to the mobile site when a mobile device calls it up.
Mike's North Shore Minnesota pharmacy is now well positioned with pertinent SEO, as well as web interfaces to answer the needs of anyone looking to get a quick prescription  refill whether at their home computer or on the go through a mobile device.
Thanks Mike for the opportunity to help your business grow!