The animal hospital is owned and operated by Julia Fry, DVM and Matt Stahl, DVM. They offer a complete range of vet services focusing on dogs, cats, and horses.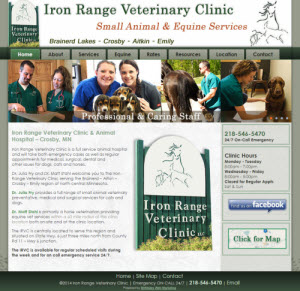 Their previous website was from a veterinary website service and gave little personality to their business. Everything was "boilerplate", meant to apply to any vet clinic and was generating little, if any, business.
They asked BAMsites to assess the situation and offer an alternative that would not only look good, but most importantly put them atop the search engines for the local region they service.
Since their collective goal is to be a top vet provider in the Brainerd Lakes area, the relied upon our experience in SEO to give them the boost they desired.
We garnered photography from one of the staff and added their logo to the header. They have a very visible sign at their vet hospital location on Hwy 6 north of Cty Rd 11 in Crosby.
The slideshow is designed to highlight the caring attitude of the doctors and staff as well as the clean modern facilities they offer in a very centralized location to serve Crosby, Aitkin, Crosslake, Emily and Brainerd.
The site has already reached at or near the top of page one Google for most of the related terms