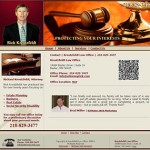 Rick Kreutzfeldt Law Office deals largely in estate planning, social security disability claims, real estate law, and business law.
We did a much needed makeover for this site that was originally created in 2005.
BAMsites redesigned the site and added some contemporary movement, as well as replicating the original SEO strategy what resulted in top search results for the areas that Mr. Kreutzfeldt specializes:
Estate Planning
Social Security Disability
Business Law
Real Estate Law
Here is the new design that is also reflected within a free standing mobile site, which may be viewed at: m.attorneyrick.com.