Service First Cleaning & Restoration – Williston, N.D.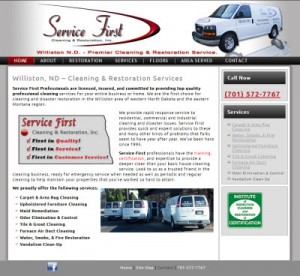 These folks have been serving the greater western North Dakota and eastern Montana region since 1995. Service First uses the latest technologies and equipment to ensure both residential and commercial companies get the service and results they desire.
Whether it's disaster resolution or regularly scheduled carpet cleaning, Service First leads the way with a fine seasoned staff of professionals who take great pride in their work.
BAMsites was asked to create this, their first website, after creating a number of similar sites in this industry, including:
and others.
The site is designed to quickly acquaint the visitor with offered services with a very prominent telephone number always present when they're ready to make the call.