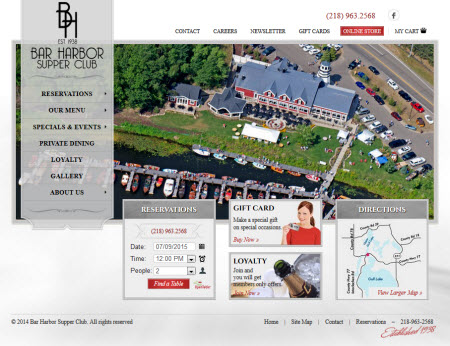 Bar Harbor Supper Club is a famous lakeside bar and restaurant located on the north end of Gull Lake. It's colorful past is displayed on some of the many photos and memorabilia from the 40's and beyond.
A fire destroyed the restaurant many years ago and it has gone through several changes of ownership and remodeling.
The restaurant is now one of the classiest places in the entire Brainerd Lakes area to dine and relax.
The ownership wanted a website change to reflect the current motif and the wide selection of menu choices.
We added a reservation widget to the home page to allow for quick and easy reservations.
We also wanted to add and online store initially allowing folks to purchase gift certificates and eventually other items as well.
So far so good as coupon sales were through the roof over the holidays!