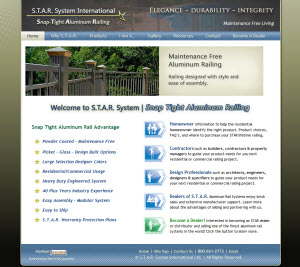 BAMsites was referred by another customer (MVAS.com) to revise the website of a manufacturer of premier aluminum rail systems for both residential and commercial applications. Snap Tight Aluminum Systems (STAR) is located in Vancouver, B.C. and has pioneered the fabrication of powder coated aluminum rail in a myriad of designs while maintaining an easy to assemble infrastructure.
The company is most interested in expanding their dealer network in the U.S. and require a sound SEO strategy as well as a dealer friendly website, helpful to those who stock and sell these fine rail systems.
The parent company East West Alum Craft, Ltd. also produces large scale custom solutions for very large construction projects, including hotels, apartments, condominiums, and more.
We employed photo buttons to quickly lead the target down the correct track most relevant to their interest. We also employed secured access areas for selective entry and access to classified information.