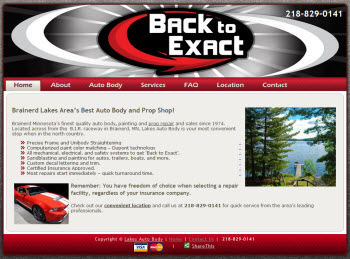 Back to Exact is their tag line and that's what they do. Back to Exact or Lakes Area Auto Body provides professional auto body, painting and other related repairs to vehicles, boats, and trailers.They also provide propeller repair and sales of both new and reconditioned props.
BAMsites welcomes Rick Besmehn and, with his son Ricky, own and operate Lakes Area Auto Body. We just updated their website and positioned them to show up on the search engines. It will take a couple of more weeks, but they'll get there.
They provide auto body repair and painting services as their primary services. Ricky runs the prop and skeg repair service which also sells new and reconditioned props.
Together this father and son team provide some high quality professional services in demand in the Brainerd Lakes Area where fender benders, car/deer collisions, and bent props happen all the time.
Welcome aboard boys, thanks for the business!