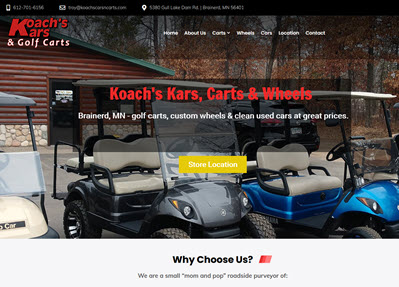 Koach's Kars & Carts is a small custom shop and store located on Gull Dam Road in north Brainerd, Minnesota.
They sell super clean used golf carts, both gas and electric powered models.
Their inventory changes almost daily, so the best way to check, is to stop in.
Therefore the main strategy was to set up the site to attract people geographically to stop in and peruse the inventory while in or on their way through Brainerd.
We employed a theme called Quattro, which is a car-for-sale type theme and came with a bunch of stuff we didn't need, which is common.
Since his inventory is small and changes frequently, we thought we'd bypass the need to post info on current inventory and just make the site attractive and give the visitor the idea of what's for sale.