Julie Jo Larson – Author & Speaker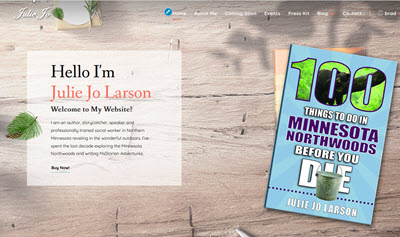 Here's a first for BAMsites – an author's website. I did a site a while back called the Cuyuna Rock Club and Julie Jo was part of the proceedings at that time. She is in the process of publishing her first book: "100 Things to Do in Minnesota Northwoods Before You Die".
The book is a great collection of cool places and things to do that many people overlook in Minnesota. Minnesota has a number of famous landmarks, but many fascinating ones go unnoticed or  not explored.
Julie Jo is part of a squadron of four historical investigators (self proclaimed: MsStorians) who uncover little known gems of history throughout the northwoods and bring them to life via the Lake Country Journal (a coffee table type magazine published in the Brainerd Lakes Area) and now in her new book.
We searched for a literary – type template for the site and found one called Leona from Subsolar on Themeforest. This one has a woodsie feel to it which fits perfectly with Julie Jo's experiences in the outdoors. It also came with WooCommerce built in as well, since she wants to sell books off the site.
If someone orders a book from her website, she will autograph it and send the buyer an additional 10 things To Do, not in the book!