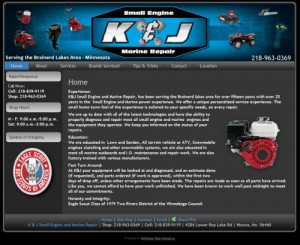 BAMsites welcomes K & J Small Engine and Marine Repair services! Kevin McGuire owns and operates this business and brings over 20 years of experience in small engine and marine repair to folks in the Brainerd Lakes area of North Central Minnesota.
He wanted a different design which incorporated a logo by Digital Inc. of Brainerd, MN.
Kevin repairs and services all kinds of small engines including ATV's, Outboard Motors, Snowmobiles, Ice Augers, Chain Saws and just about anything else that runs on gasoline.