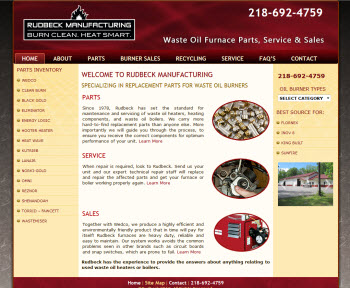 Used oil and other similar fuels can be used as an excellent source of fuel for heating furnaces , boilers, and other machines. Of all the projects we've done at BAMsites, this one was one of the most unique.
It was unique because the core business is selling used oil furnace parts to waste oil heaters manufactured many years ago. Most of these old beasts still work, if replacement parts are available for repair and service. 
Talk about an off beat way to make money!
Rick and Ryan Rudbeck of Crosslake, MN know more about these waste oil heaters and furnaces than anyone in the country. They spend their days on the phone answering questions and sending folks replacement parts as well as new burner systems that are manufactured right here in the north country. 
In addition, they also sell paint thinner recycling bags and other recycling accessories for dealing with hazardous materials.
The Rudbecks needed their old site revitalized and positioned to bring them to the top of the search rankings for waste oil heater parts and associated terms.