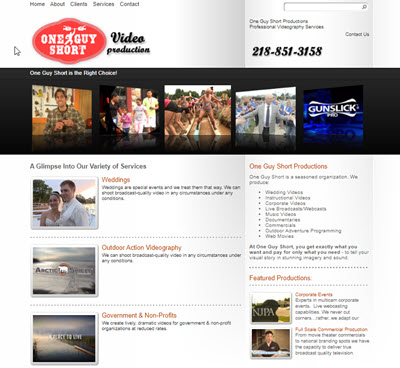 Mark Ambroz is a videography professional in the Brainerd Lakes area of North Central Minnesota. So much so, he's now a videography instructor at the local Central Lakes College located in Brainerd. Mark has an extensive history in the business working as a videographer for television, outdoor shows and more for over 25 years.
I built this website for Mark's company many years ago and it's served him well. Besides teaching, Mark does video work of all kinds for businesses, celebrations, vlogging, and is now filming and producing virtual business videos using Zoom.
Recently, we decided it was time for an upgrade. We chose a dark theme which is commonly used for artistic related websites, such as photographers, artists and others.
SEO – We maintained most of the keyword/phrase strategy used way back when, since Mark's regional ranking is solid. We added some of the new types of videography he's offering, as well as playing up his role as a professional instructor.