Lily Grass Floral
Lily Grass Floral is owned by Marci Hoard of Brainerd, Minnesota.
The original site was on WIX, which looked decent, but lacked any real SEO, which is typical of "spin your own for free" type sites. Marci is one of the most sought after wedding florists in the entire Brainerd Lakes region who also does flowers for other types of events – beyond weddings.
The main focus of her strategy, we determined, is her glowing reviews. She has stellar reviews with "The Knot", Wedding Wire, and Google. We are urging her to try to increase the Google reviews, since she only has eight. I believe a high number of Google review citations can add in the hierarchy of the Google Business Maps, that routinely appear after a general search.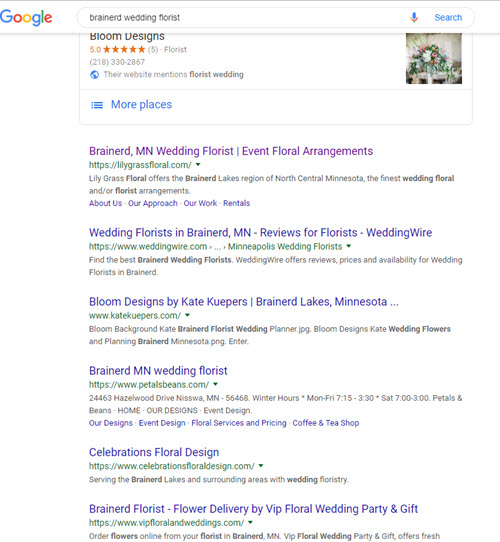 We keyed on the term "brainerd wedding florist" also using "floral". "Wedding flowers" is not as powerful, since people looking for wedding flowers, may be looking to purchase their own. But is you are looking for a wedding florist, you're looking for a service to provide arrangements for an event.
Here's that search on August 7, 2019. Page one – top for the term above. I'd like to get her on the Google Map above, which she is if you hit "More Places".
These top three are generally a function of location, since she's further away than some of the "in town" services, she doesn't show for my search in the top three. Google sometimes changes things on us as well, so you have to stay with the basics of SEO to consistently rank.
Since her reviews on Google and especially key wedding sites were so great, I decided to lead with reviews. Below the main slider then are the three review sites of: Wedding Wire, The Knot and Google.
I think it works well.
Marci is extremely busy and pleased with the transformation of her website.