Aitkin Hardwoods is a long time client and the website was well liked by visitors, according to feedback from the staff. This company produces custom flooring and paneling and many other home products with a rustic flare that is unmatched anywhere.
Although the site was well received, we wanted to add a responsive nature to it, since many of the patrons are from out of town and view the site in a mobile environment.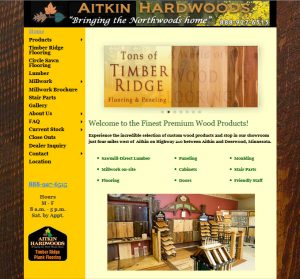 We retained much of the content and imagery, but just gave it a very "woodsie" feel by using one of the popular Timber Ridge rough cut lumber patterns used in flooring and paneling.
Thanks to Dave Schaefer and the rest of the staff for always providing new content and being open to our suggestions.
This is a very unique store and manufacturing facility that serves all of Central Minnesota and especially the Brainerd Lakes area of north central MN.