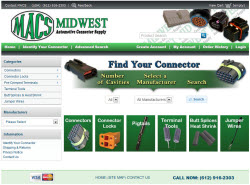 Midwest Connector Supply offers hard-to-find electrical automotive and related vehicular electrical connectors and related elements for sale online.
The parent company Thexton Manufacturing, supplies the automotive industry with mechanic tools, diagnostic testers, and other repair solutions.
We used an alternative eCommerce solution for this store. It was build from the ground up using an open source e-store.
The result is one of the most intuitive, easy-to-navigate store sites I've seen thus far. The pre-built sites cannot hold a candle to this one. I know because I've built several sites using one of the "big box" ecommerce stores.