Aluminum Portable Skid Fish Houses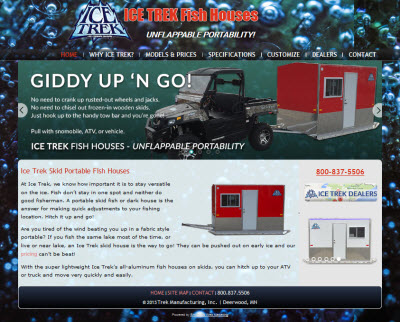 BAMsites was asked to help a fledgling aluminum Ice Fishing House manufacturer. They wanted to kick-start their new line of skid ice fishing houses located in north central Minnesota.
Ice Trek Fish Houses is a new company, building these super lightweight all-aluminum fish houses as the whole market of mobile RV-type fish houses explodes in the Midwest.
Since we're all about ice, the background image is actual pond ice photographed not far from home a couple weeks ago.
There are currently only a handful of competitors in this specific market – at this time. We are positioning the products based on the value of a skid house vs wheel house, as well as simple shell and insulated construction vs. a finished interior.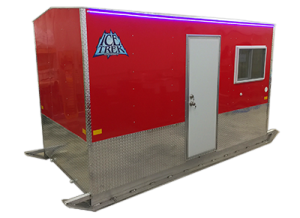 The Ice Trek advantage is the interior spray foam polyurethane insulation only with no additional finishing. This "bar-bones approach keeps costs down and allows a new owner to finish the shanty themselves or use "as is". Further, the aluminum "bear cage" construction is overbuilt and more substantial than the competition.
The site is fully SEO'd for "portable aluminum skid fish houses" and is already popping up on Google and drawing traffic under the aforementioned phrase, as well as: portable skid fish house" and similar.
There are eight different model sizes and configurations available as well as custom designs when desired. A custom form was developed to make it easy for folks to describe what they want as a departure from a standard design.