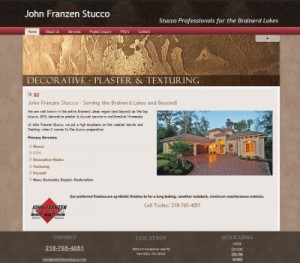 John Franzen Stucco is a well known name around North Central Minnesota and especially the Brainer-Baxter lakes region. John Franzen has provided excellent drywall, stucco, plastering and related work for 30 years. He is highly respected by both residential homeowners and regional contractors.
BAMsites was contact to "put him on the map" since there are relatives also in the business and it was causing confusion as to "who is who".
We did two main internet related marketing directives to get John to stand out above all the others. First we built a responsive websites adding a lot of class to the overall aura of his business.
We then went to work on Google My Business, getting rid of outdated profiles and replacing with newly updated material.
Additionally, we added a Google Review button on his contact page making it easy for people to give him a rave review.
All these moves will provide nearly all the marketing he needs enhancing his already great reputation and "word-of-mouth" referrals that he gets on a regular basis.
John's new internet strategy will position him above all other competition, now and into the future.
Welcome aboard John!