The Power of Google Reviews
One of the primary strategies I advise my clients on is Google My Business. This is an often overlooked treasure-trove of traffic for a local or regional business. While most SEO companies focus on website rankings (as we do), the "other" listing for Google My Business is just as, and sometimes much more powerful, than the basic search engine website results on Page One.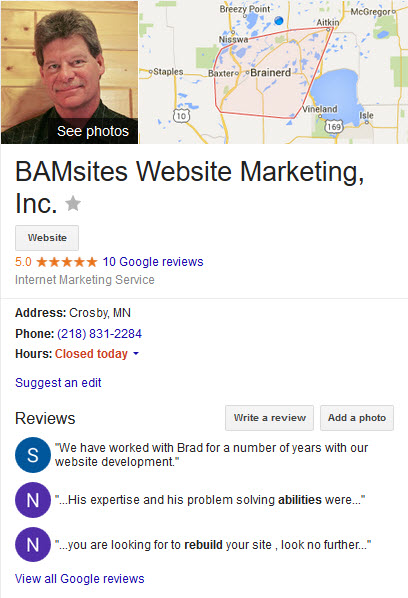 Once a complete business profile is accomplished, there are other tasks to embellish the listing. My favorite is Google Reviews.
I implore my clients to reach out to satisfied customers to give them a review. Lots of good reviews will overshadow the occasional bad one, which is a necessary evil and actually adds credibility to the overall review average, in my view.

I make it easy for people to leave reviews on my clients websites by setting up a very visible button they can click to link directly to my clients review page.
The kicker is: The reviewer must have a Google account to leave a review. Some do – some don't. I tell them, don't worry about that piece, just suggest or bribe people to leave a review and let nature take its course.
Once five reviews have been secured, the listing will display the crucial "STARS" below the listing as seen here. You can see:
The region served on the accompanying map
Lots of stars ; )) (hopefully!)
Snippets of the reviews
And other goodies
Many times a visitor will need not go any further than the Google Business Listing before contacting the business directly. Very powerful!
So how can we improve our Google Local presence?
Here's how Google Determines Local Rankings:
Local results are based primarily on:
Relevance
Distance
Prominence
These factors are combined to help find the best match for your search. For example, Google algorithms might decide that a business that's farther away from your location is more likely to have what you're looking for than a business that's closer, and therefore rank it higher in local results.
There's no way to request or pay for a better local ranking on Google. They do their best to keep the details of the search algorithm confidential to make the ranking system as fair as possible for everyone.
Tips for Embellishing Your Profile to Increase Your Rankings
Add Relevant Content
The Google+ share bar within the dashboard of Google My Business allows you to share text updates, links, images, videos and more – so make the most of this platform. We all know that Google loves original content that is shared regularly so use this platform for exactly that. The rewards you see from Google will be well worth the effort.
Physical Address
Include your full business address. Your location in relation to the centre of the city or region is important, but if your places page and website rank well for your suburb you'll show up for adjacent suburbs as well. Once your address is updated, you will not only appear in local search results but also search results within Google Maps.
Website Address
Without a website, it is difficult to rank well or at all depending on the competition. This means you cannot rely on Google My Business Alone, you must have a website as well. Your website ranking affects your My Business page ranking. It's important that your My Business page information is consistent with your website to make the most of the link and encourage user friendliness.
Categories
Within the Google My Business dashboard, you can add categories that your business operates in. Crucially, Google has specified that this should be what your business is rather than what it does, so think 'Carpenter' instead of 'Carpentry'. Updating these listings and playing by the rules will help people to find your business.
Reviews
Encouraging as many customers as possible to leave reviews is an important part of a local SEO strategy. This provides both Google and prospective customers with confidence in the service you provide. Very simply, businesses with more reviews do better in Google My Business.
Diversify Reviews
And it's not just reviews that count, but ensuring that those reviews come from the local places you are trying to target. If you want to boost your Google My Business SEO for 4 cities around Minneapolis, make sure that you are encouraging reviews from all 4 of those cities.
PS: Incidently, BING and Yahoo also have similar programs, which I generally set up for clients as well, since you never know what search engine will be the default on a Desktop, Tablet or Phone.